Dr. Anderson truly feels blessed to love what he does and to work with his patients each day. He enjoys developing a relationship with each person over the course of their treatment and witnessing the positive results of a more confident smile. Each new smile is the result of a shared commitment by both Dr. Anderson and you.
Dr. Anderson and his wife and children moved to Texarkana in 2004 to be near family and to join the practice of Dr. Al McWilliams. He strives to continue the reputation for the very best care in a fun, professional, and comfortable environment.
As the only board-certified Diplomate of the American Board of Orthodontics in the Texarkana area, Dr. Anderson is committed to delivering healthy and beautiful smiles to people of all ages. His dedication to outstanding results is evident in his patients' new smiles, as well as their increased self-confidence and improved self-esteem.
Education
Dr. Kurt Anderson attended Texas Tech University before receiving his Doctorate of Dental Surgery from Baylor College of Dentistry. After graduating as valedictorian of his dental school class, he completed orthodontic specialty training at Baylor, where he also earned a Master of Science in orthodontics. Dr. Anderson is board certified and has authored several articles in respected dental journals.
Continuing Education
Dr. Anderson enjoys being a lifelong student. He enjoys the pursuit of knowledge and excellence, which led him to complete the board certification process through the American Board of Orthodontics. In addition, he enjoys staying on top of the latest improvements and technologies in the rapidly changing field of orthodontics and incorporating them into his practice. This passion for learning leads him to attend numerous educational programs throughout the year to keep him at the top of his profession.
Professional Associations
College of Diplomates of the American Board of Orthodontics
Texas Dental Association
Texas First District Dental Society
Omicron Kappa Upsilon Dental Honor Society
In the Community
Currently, Dr. Anderson's community involvement is largely an extension of his children's activities including youth sports and church programs. He also supports various nonprofit community events and local school-related programs that are important to his patients.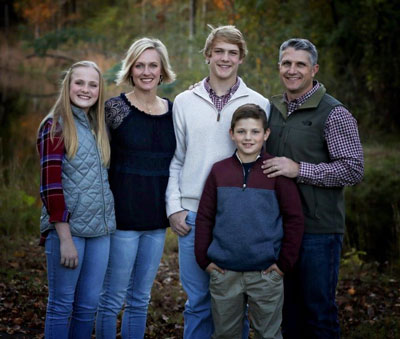 Outside the Office
Dr. Anderson and his wife enjoy spending time and playing with their three children. He also loves to hunt and fish whenever he gets the opportunity.